Nicole Murphy shared an insta story where she was wearing a two-piece swimsuit and was looking hot. The design of the swimsuit is unique, it is the drawing of people with masks on their faces. Also, the color combo was great.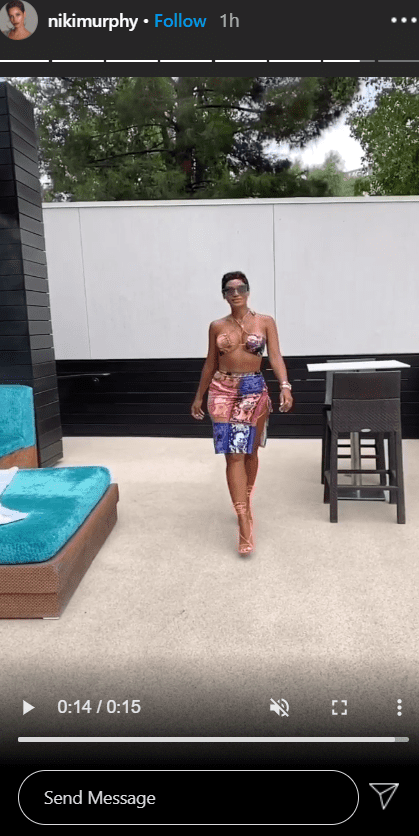 Source: newsamomama.com
NICOLE MITCHELL MURPHY
She is a multi-talented woman, having a career in modelling, designing, acting, a tv personality, and a businesswoman. The 52-year-old Nicole is a mother of 5 which she received from Eddie Murphy, four daughters, and a son. They met in the year 1988 got married 5 children but unfortunately, got divorced in 2006. After being single in 2009, she started dating football player Michael Strahan even that ended in 2014. Although Nicole has retired from modelling she has started her own business in jewellery and skincare products. FLP – Friendship, Love, and Peace is the jewellery brand, and ZOBELA is a skincare brand. Being a fitness freak, she runs a website – nicolemurphyfitness.com, so if you want to be fit check out the website.
Source: pinterest.com
NICOLE'S MURPHY INSTAGRAM ACCOUNT
Nicole keeps on posting about fashion, fitness, family, and other things as well. Her account name is nikimurphy with 941k followers, 1,226 followings, and 2,853 posts. Few days before a story was uploaded of hers in a brown and purple two-piece bikini. In that, she was wearing orangish sandals, a bracelet, small earrings, and black shade sunglasses. On that same day, a workout video was uploaded with a caption that says 'No excuses. 6:30 am workouts every day… This is a great leg and core workout. She was dragging a 20-pound sandbag ten times'. 
https://www.instagram.com/p/CEXTxfSgqTw/
Certain hashtags accompanied it but looking at her makes us realize exercise is a must doesn't matter where, as she said no excuses. After she also posted a picture of Chadwick who passed away yesterday, famously known as Black Panther. Looks like she was a Marvel fan because the picture of him is in Black Panther suit.