Sweet Magnolias is an American romantic drama tv series based on a novel with the same name Sweet Magnolias written by Sheryl Woods. The first season premiered on Netflix on 19 May 2020. The second season aired on 4 February 2022.  In May 2022, the series was renewed for a third season.
What is Sweet Magnolias about?
The show is all about female friendships and romance. The three South Carolina women's best friends constantly try to motivate each other. Best friends since childhood, as they shepherd each other through the complexities of romance, career, and family.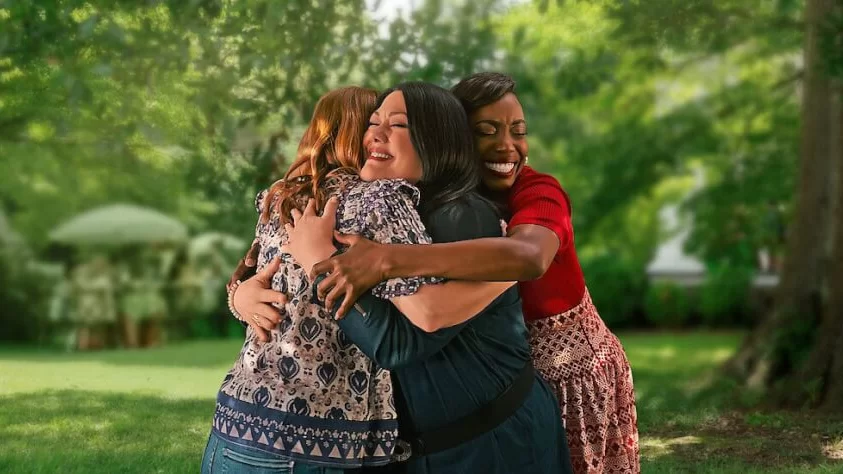 Sweet Magnolias for a season 3?
Season 3 is once again expected to be 10 episodes in length. The filming of season 3 was said to begin in June.
What to expect from Sweet Magnolias season 3?
Season 2 ends with plenty of cliffhangers continuing the tradition from season 1.
Season 2 ended off with Maddie, Helen, and Dana Sue mourning the passing of Miss Frances (Cindy Karr). After the funeral, we see an unexpected event of a proposal and a confrontation in the restaurant that leads to Cal being chaperoned away in cuffs. We also saw and know that someone has returned after the main trio saw footage of tires being slashed on Sullivan's delivery van.
Helen (played by Heather Headley) had gone through a lot in season 2 moreover she had to deal with traumatic events. However good things did happen to her with the season ending with her being proposed to by Ryan. Season 3 will likely kick off with the decision she makes.
Dana is also working on fixing her marriage to Ronnie. She lets him back into the family home. Do you think their reunion will last, or will he return to the previous ways that included him cheating on her? but trouble lies ahead thanks to a mystery woman, Kathy, who has it out for Dana Sue. And don't forget, when Miss Frances died, she left a lot of money to Dana Sue in her will, So what's going to happen about that? Any possibility this Kathy woman has something to do with that?
Bill Townsend is Isaac's dad, which tells us he now has five kids with three different women. Isaac bumbled to find his birth parents for so long (Peggy is his mom), so what does that relationship look like now? And we need to know about Noreen's future as a new mom. To top it all up, there's the recall election in the town and there's the continued implication that Maddie should be the person to step up and replace the Mayor if he loses.
The cast of Sweet Magnolias season 3
The three leading ladies,
Jo anna Garcia Swisher as Maddie Townsend
Heather Headley as Helen Decatur
Brooke Eliot as Dana Sue Sullivan
Chris Kelin as  Bill Townsend
Justin Bruening as Coach Cal Maddox
Jamie Lynn Spears as Noreen Fitzgibbons
Logan Allen as Kyle Townsend
Annelise Judge as Annie Sullivan
Always be updated with InstaChronicles and visit here for real-time updates!