Komi-san also called Komi can't communicate is a Japanese manga series written and illustrated by Tomohito Oda. This Manga has been serialized in the weekly magazine of  Shogakukan's shōnen manga. Later this manga was adapted into anime series. The first season aired from Oct 7, 2021, to Dec 23, 2021. The second season aired from April to June 2022. As of June 2022, the Komi Can't Communicate manga had over 7.4 million copies in circulation. In 2022, the manga won the 67th Shogakukan Manga Award for the shōnen category.
This anime is a comedy based and tells us the story of Hitohito Tadano helping his classmate Shouko Komi to reach her goal of making 100 friends. Hitohito Tadano is an ordinary boy who heads into his first day of high school with a clear plan: his plan includes just one thing that is to avoid trouble and do his best to blend in with others. Unfortunately, he fails in his plan when he takes the seat beside the school's madonna—Shouko Komi. His peers now recognize him as someone to eliminate for a chance to sit next to the most beautiful girl in class.
Komi is a beautiful girl with dark long hair and is popular. she is adored by everyone and envied for her good looks.  However, she has crippling anxiety and a communication disorder which prevents her from wholeheartedly socializing with her classmates. When they both are left alone in the classroom, a chain of events forces Komi to interact with Tadano. She communicates to him through writing on the blackboard, in a one-way conversation. Tadano being the first person to realize she cannot communicate properly, picks up the chalk and begins to write as well. He eventually discovers that Komi's goal is to make one hundred friends during her time in high school. To this end, he decides to lend her a helping hand, thus also becoming her first-ever friend.
In this post, we'll do a recap on season 2 stressing on episode 9.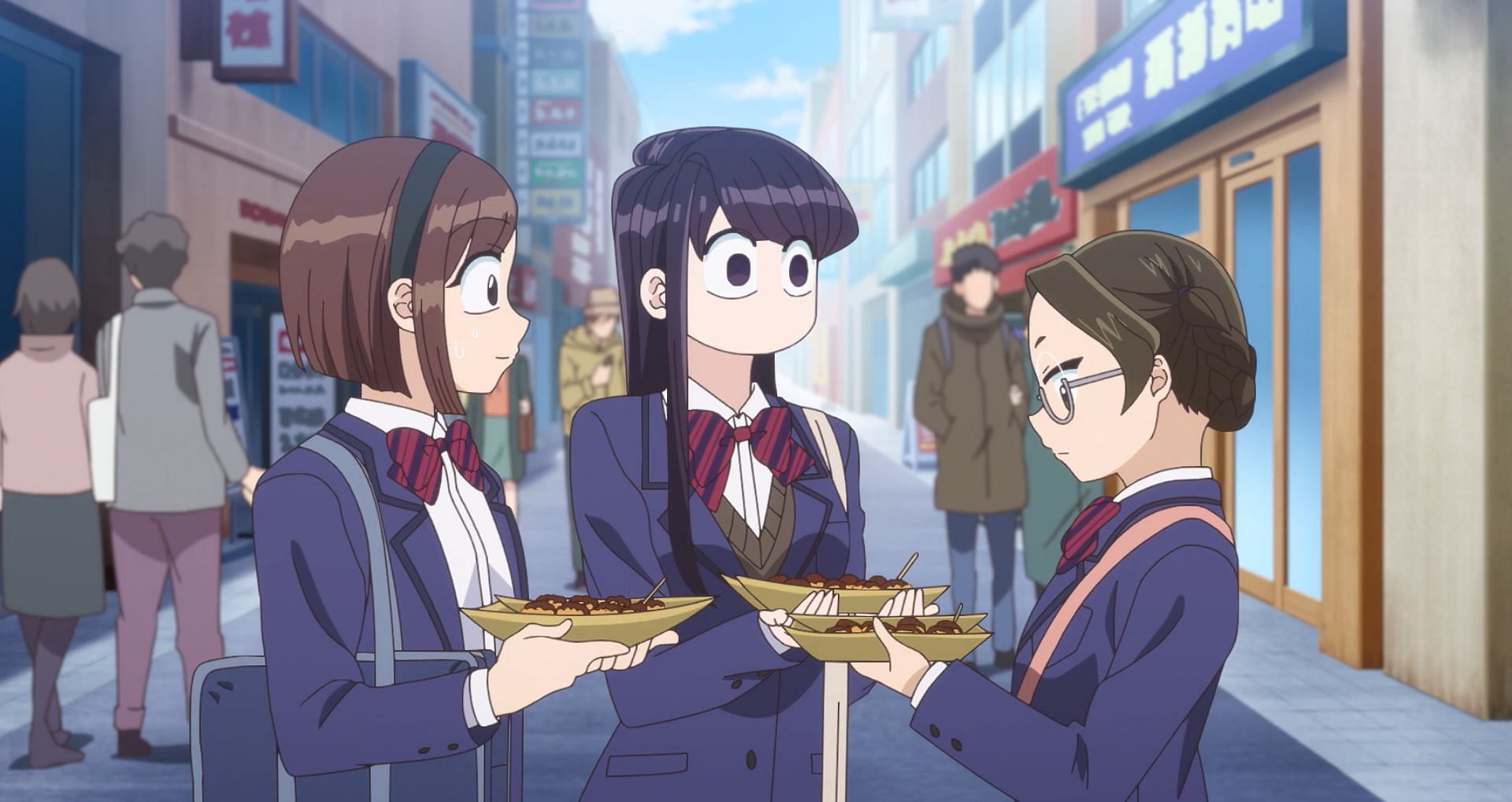 In season 2 episode 9, the scene begins on the second day of the school trip. Komi-San's classmates Kato San and Sasaki San are trying to be friends with her. but her communication disorder hinders the speech skills that affect her everyday life. She writes in her book and communicates with the two girls. Katou San comes up with her schedule and asks them if they would mind following her schedule for the day. They all go to Osaka to Utopia street Japan. in Osaka, they take different rides in the amusement park through the tickets taken by Katou San. After all the rides they leave to go to Utopia. In Utopia, they stop to eat takoyaki. Later they visit the shrine at Todaii jii. Komi San sees the deer, and the other two girls admire her beauty. They are so engrossed in admiring Komi-san that they almost miss the next train. They visit Futomaki studio Park. In a crowd play komi san plays the role of a princess and the guys try to capture her, during this play Sasaki san was not aware Komi was in a street play she mistakes that komi is being tortured. To protect her, she wears a mask and interrupts the street play. later they go back to the hotel tired. at night the girls discuss whom they have a crush on. the girls assume Komi crushes o Tadano since they both spend much of their time together.  The girls try giving Tadano ad Komi some alone time to spend together.
Always be updated with us,visit InstaChronicles for Real-time updates.